The day-to-day operations of Open Doors are accomplished by numerous volunteers working in a set of activity-focused teams.  Please click on any of the links to read more about what each team does.
Our volunteers are amazing, and you could be one of them.  Most of our teams require background checks beforehand, but the Donations, Translation and Events teams do not.  Please see our Volunteer page for more information about volunteering.
Childcare Team
The Childcare Team provides reliable and nurturing care for the children of refugee parents, while their parents pursue the important work of learning and practicing their English language skills.
We typically operate in a community space, with children/caregivers in one room, and parents/ESL instructors in a room nearby. Current classes take place on weekday mornings, with children ranging in age from birth to three years old. Periodically, we also support classes that are held on weekday evenings or Saturday mornings. The time commitment is usually about two hours a class, and classes typically run weekly for a semester or a succession of 6-8 weeks. While it is not necessary to make a weekly commitment, many volunteers who are able to come fairly regularly enjoy the relationships they form with these lovely children.
Members of the childcare team should be reliable, attentive, playful and nurturing. All team members are required to complete a simple background check. Interested? Contact our Volunteer Coordinator at OpenDoorsVolunteers@gmail.com.
Donation Team
The Donation Team has the satisfaction of helping to welcome our newest arrivals to their attractively furnished new apartment.  You can help day or evening, depending upon your availability, and with tasks that fit your schedule, preferences, and physical abilities.  The tasks of this team include scheduling, pick up and storage of furniture and housewares from donors, while the closely related Move-In team assembles those donations and uses them to setup the apartments.
Pickups are generally scheduled the morning of the second Tuesday and the evening of the fourth Wednesday of each month, and pickups are also done on an ad hoc basis when the normal schedule doesn't work.  Pickups are done by small teams recruited from our pool of volunteers, and usually require about 2-4 hours of work. There are also positions for coordinators who facilitate this work from their homes.
Unlike their Move-In counterparts, members of the Donation Team don't have to have background checks, and individuals with pickup trucks or large vans are especially encouraged to volunteer.  To join the Donation Team, please contact OpenDoorsDonations@gmail.com.
Donation volunteers enjoy working together, and especially producing a tangible result that says, "Welcome home."
Move-In Team
Many consider the Move-In Team to be the most fun and rewarding part of Open Doors!
When a new family is to arrive, this team swings into action.  Once an apartment is secured, based on the size of the apartment, the number, age and genders of the family, and what we have in storage, this team first selects the furniture and household items to go into the apartment.  Often before the move in day, some team members haul over household items and beds and set up the beds. Then, on the day of the move in, one strong group rents and loads a truck and hauls furniture while another group goes grocery shopping and starts putting the household items away.  At the apartment the two groups work together to set up the new home and make it both functional and beautiful, complete with food in the fridge and flowers on the table.
Few things are as satisfying as closing the door on the new apartment and imagining the joy and relief of the new family stepping into it a few hours later.
In the last 40 months we've set up 37 apartments, so we average a little over one move-in a month.  However, largely due to political and procedural reasons, we've gone months without any new arrivals, and conversely, we've had months with several of them (including two in one day!).
Would you like to be part of the Move-In Team?  Since anyone participating in a move-in will know where the new family resides, everyone must get a background check before joining this team.  Also, the move-ins are inevitably done weekday mornings and early afternoons, so you would need to be available at that time. If you're hauling furniture, you need to be physically fit and in good health.
If you would like to be part of this team, please send an email to Tanya, our volunteer coordinator, at OpenDoorsVolunteers@gmail.com and let her know what you're interested in. She can initiate the background check for you.
Employment Team
The Employment Team partners with local service providers in the Madison area to prepare refugee clients for entering the workforce. Activities include interview preparation, resume workshops, and job skills training. We also do employment outreach to connect refugee clients with potential employers. If you'd like to get involved, please contact OpenDoorsVolunteers@gmail.com.
ESL Team
Our ESL (English as a Second Language) Team at Open Doors for Refugees provides adult and youth refugees and other English language learners with informal conversation and homework assistance for their school or ESL courses. Since Covid, this tutoring happens online, by telephone, or in person depending on the comfort of both tutor and learner – we do not do in-home tutoring.
Our volunteers are asked to commit semester by semester for approximately one to two hours per week. We also require a standard background check through Open Doors. Some prior experience with ELL (English Language Learners) or general education is preferred when working with this team, but all are welcome. Our learners currently are primarily Spanish speakers, but come from a range of different countries so language skills could be useful, but are not required.
If you would like more information about what we do or how to volunteer, please contact Stanley at OpenDoorsESL@gmail.com.
Events Team
The Events Team initiates, plans, organizes and runs a variety of events designed to raise awareness of refugee resettlement in the Madison area and to facilitate the integration of those who arrive here as refugees into the community.
The Events team organizes four annual flagship events – a community picnic in the summer that attracts hundreds, a Naturalization Ceremony in September that takes place in the Federal Court and coincides with the nation-wide celebration of Welcoming Week, a Thanksgiving gathering in November, and we co-host a Freeze For Food Run, which is largely hosted by the Returned Peace Corps Volunteers of Wisconsin – Madison, and is a benefit for Open Doors.  Additional events have included movie screenings, musical performances, exhibits and lectures, some of which were fundraising events and also involve finding sponsors and in-kind donations of goods and services. The Event Team often works in collaboration with the Jewish Social Services, the University, faith communities and the US Citizenship and Immigration Services.
The team meets once or more beginning about two months before each event to discuss, plan and allocate responsibilities. Additional communications are handled on email and electronic signups. Tasks are varied and range from designing publicity materials, to pursuing sponsors and in-kind donations, to communicating with partner organizations, to setting up, and cleaning up.
Unlike most Open Doors teams, you don't have to have a background check to join the Events Team!
The Events Team is currently looking for two people to co-lead the team – people with enthusiasm and vision, but also with an attention to detail.  For each event, co-leaders are responsible for mustering the team and, along with the team, figuring out what needs to be done and who's going to do it.  They are also responsible for proposing and/or evaluating new event proposals and pursuing them as desired. If you're interested in co-leading this team, you would have the benefit of learning from the experience and notes of the former co-leaders who are stepping down after four years of service.
The Events Team is fun!  Please write to OpenDoorsEvents@gmail.com with questions or if you'd like to join us.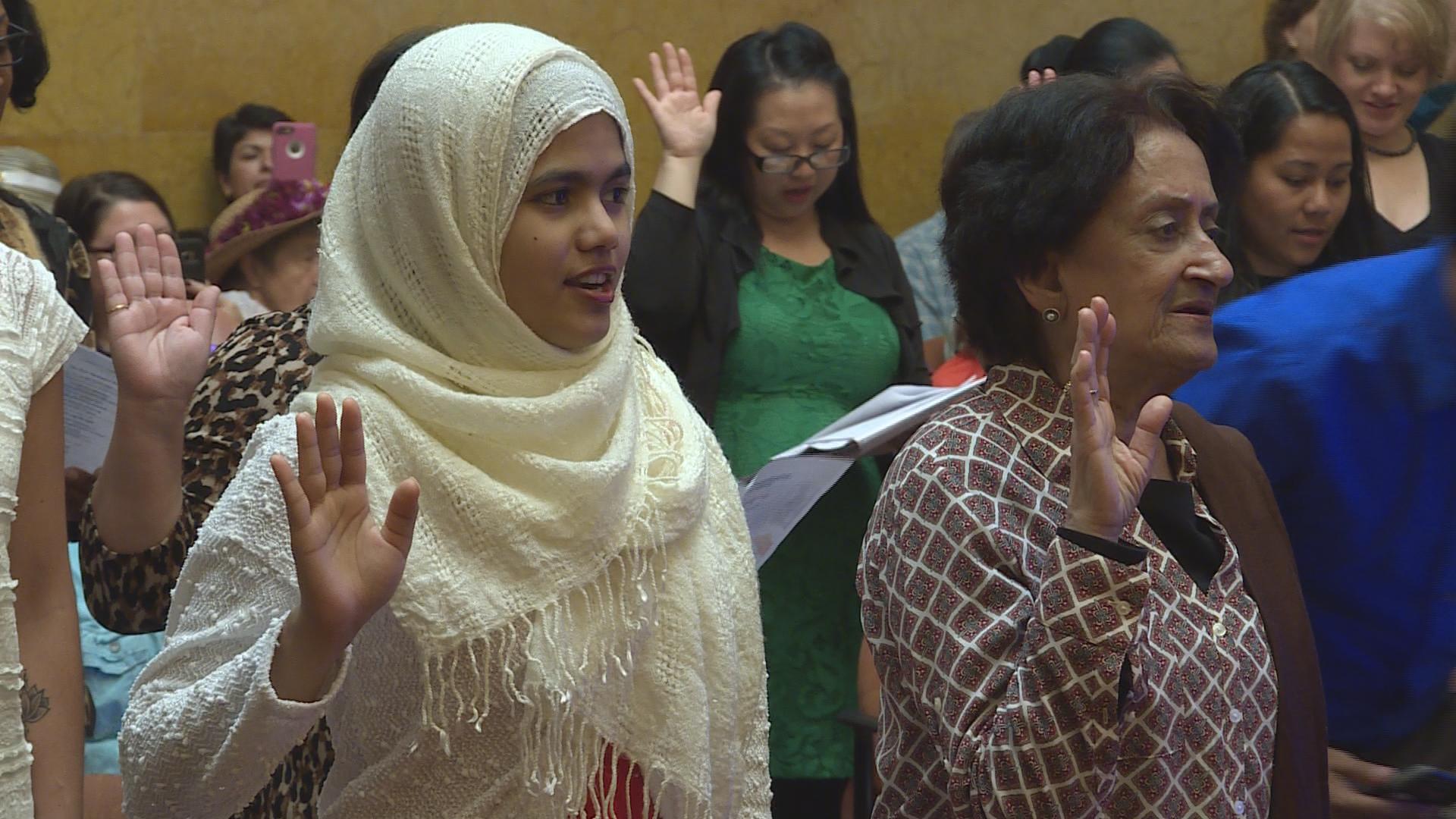 Home Supply Team
Open Doors' Home Supply Team provides newly arrived refugee families in the Madison area with monthly deliveries of basic household cleaning and bathroom supplies.
This volunteer team meets on the last Saturday of each month to purchase and distribute a bin of items like paper towels, laundry detergent, dish soap, and diapers, along with a gift card so people can pick out their own personal care items (all things our clients can't buy using Food Share cards), to each of our client families for the first year they're in Madison.  We start around 9 am and are usually finished by noon.
If you'd like to help out, you'll need a vehicle with some cargo space, the ability to carry a 25 pound box up a flight or two of apartment steps, and a standard background check.  Our families come from all over, so language skills may be very useful but aren't required.  Please contact Christopher Deegan (christopher.deegan@gmail.com or 608-421-8643) if you have any questions, or if you'd like to join us!
Translation Team
The Open Doors' Translation Team provides written translation of documents that we want to communicate to our newcomers. Prior to a year or two ago, most of the newcomers came from the Mideast, while these days most of them come from African countries, predominantly from the Democratic Republic of Congo. Accordingly, we have been translating to and from Arabic, Farsi/Dari, French, and Swahili.
When the Translation Team leader receives a translation request, they forward the request to all the Translation Team members and the first responders take it. Most documents range between two to five paragraphs and are required to be translated and sent back within a few days. We typically receive one or two translation requests per month.
You don't have to have a background check to be on the Translation Team unless you will also be doing in-person verbal interpretation (which is usually done by bilingual volunteers on the Translation or ESL Teams).
If you're interested in joining the Translation Team, please contact Nevine El Nossery (the Translation Team leader) at nevineelnossery@gmail.com. Thanks for your consideration.
Transportation Team
The Transportation Team provides personal transportation for refugee families in the Madison area.
Transportation needs may include medical and agency appointments, job interviews, initial shopping, and other requirements in the first few months of resettlement, as well as rides to ODFR-sponsored community events. Volunteers have also assisted individuals in preparing for driver's license exams and taught newcomers how to use the Madison Metro for independent transportation. Driving volunteers are often the first volunteer community members that newcomers meet in Madison and provide a warm welcome to families. Foreign language skills may be helpful but aren't necessary.
Most of the rides are daytime weekdays, but some rides, like for shopping or to ESL classes, may be evening or weekends.
Do you think you'd like to drive with us? All drivers must have a safe driving record, a car in very good condition, and carry at least $1,000,000 of liability insurance on it. If you meet those requirements and want to join the team, please contact Margaret, the Transportation Team leader, at Margaret.ODFR@gmail.com. The last step is to have a background check and a drivers' record check, both of which can be initiated by contacting our Volunteer Coordinator at OpenDoorsVolunteers@gmail.com.  Thank you for your interest.