Nuristan, Wisconsin, California, Next?
Uprooted from their homes, fleeing to temporary locations, surviving loss, waiting for visas, assigned to a new country, refugees endure movement and change. "Settlement" remains a future dream.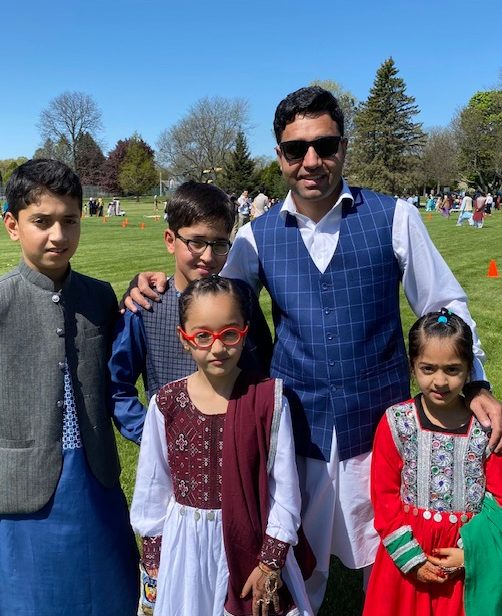 Aziz and his family waited two years in Afghanistan before Aziz's SIV visa was confirmed. By way of San Diego in 2014, they arrived in Madison in 2015. Because of his proficiency in English, Dari, and Pashto, Aziz was chosen in 2021 to work as an interpreter at Fort McCoy's receiving center for Afghans who were fleeing due to the U.S. military's sudden departure.
Aziz was central to the movement of 12,600 Afghans — men, women, and children — into and out of the U.S. Army's temporary facility near Sparta, Wisconsin.
"At first we heard we would be there 9 months, then in January, 2022, we heard everyone would be out by the end of February, 2022. During that last month, we sometimes put as many as 2,000 or 3,000 people on outgoing flights in a single day."
As with any large, new program, refugees endured stress and disorganization. "So I was very happy I could be there," said Aziz, "helping both nations." Families, separated into living partitions by hanging sheets, complained about the noise. All were anxious about their new homes-to-be. "When flights cancelled unexpectedly, some people cried, "said Aziz, "but when flights were confirmed for 'tomorrow', they cried tears of joy."
Aziz especially enjoyed hearing stories of his fellow Afghans. Afghanistan is a nation of storytellers, and the newcomers shared harrowing and heartbreaking tales. Aziz was surprised to meet friends and colleagues he had known in Afghanistan. As Fort McCoy closed, he, too, chose to leave for southern California to be near an uncle and cousins and to enjoy warmer weather. "My wife and kids are really happy here," he said in a phone call in March, 2022.
Aziz was positive about his years in Madison. "We found a safe location with supportive neighbors and schools. I was happy."
He said that Afghans without English skills and without relatives have it harder.
"They think the U.S is a land of wealth with lots of support. What they experience instead is that it is a land of opportunity with the possibility of wealth, limited support, and a place where success requires very hard work. Getting what you need is complicated and very time consuming.
"New refugees also experience that the U.S. Is very structured by laws, rules, processes, forms, and it is highly scheduled. In Afghanistan, for instance, one does not make an appointment but just goes to a doctor's office. Not observing traffic laws is common."
Already at work doing medical translation, and already considering a job and possible business opportunity in Virginia, another location with many Afghan transplants, Aziz is not yet "settled." As he leaves Madison, he says, "I want to express my thanks to all who helped my family in this city. Please tell everyone thank you."
Farewell for now, Aziz. We at Open Doors for Refugees send good luck and best wishes.
By Madeline Uraneck