Some Madisonians who are dedicated to helping refugees may be surprised to learn how hard refugees work to help one another and to assist refugees abroad. Albert and his wife Muhiya are two such people.
Albert was born in Katanga, Democratic Republic of Congo (DRC), and Muhiya came from Lubumbashi, in northern DRC. Before the war tore their family into pieces, Albert was a primary school teacher, a Pentecostal pastor, and had a business selling motor oil. The oldest of six children, Albert lived with his mother and wife in DRC's large city of Bukavu, and their grown siblings lived nearby.
In a night in November, 2007, government soldiers carrying torches burst into Albert's home, raped both women, killed Albert's mother, and tortured Albert.
That night of terror marked the beginning of four months of agonizing escape, then eleven years as refugees in Uganda. It is difficult for Albert to talk about his escape. Initially he, his wife, and nine others staggered aboard a lorry, which took them over terrible roads to hide in a Catholic Church in Kalehe village. They despaired, imagining what might have happened to their siblings. They were terrified to accept food or medicine from strangers who might report or kill them.
In February, 2008, Alfred and Muhiya fled in a lorry direct to Kampala, capital of Uganda. Uganda is progressive among countries that host refugees, but they were just two more of its 1.4 million displaced persons. They found a Pentecostal church and at
first lived there. Their skills, education, and Albert's ability to speak English, French, Chiluba, Swahili and Bengala were valuable assets.
Albert joined UNHCR, the United Nations refugee agency, as a community worker focused on gender based violence. Thousands of refugees were victims of not only rape, but also sex trafficking and domestic violence. Albert and his team went house to house to encourage traumatized victims to stand up for their rights. He conducted awareness sessions with men and women and followed up with lawyers and courts to build cases against perpetrators. "It was not an easy job," says Albert.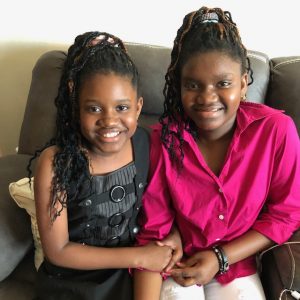 Albert and Muhiya's daughters were born in Uganda — Esperance, whose name means hope, and Mwamba, three years younger, whose name roughly translates to tower of strength. Initiated in 2008, it wasn't until 2016 that the family's UNHCR asylum case finally began to move forward. In April, 2019, they learned they would be assigned to a place called 'Wisconsin.' Despite never having heard the word before,, they landed in Madison in May, 2019.
"Muhiya and I are still looking for our brothers and sisters," Albert says. "We feel in our hearts that they are alive. But where?"
Both parents have found employment jobs. Albert works a 14-hr long night shift in Jefferson, WI, including his commute. Somehow he and Muhiya find time to welcome other refugees, to nurture Madison Umoja ni Nguvu, a refugee assistance organization, and to raise funds to send to trusted colleagues in Uganda to pay school fees for orphans. "Maybe we have helped 40 of them," Albert says, "but what about the other one thousand?"
Open Doors for Refugees feels Madison is lucky to count Albert, Muhiya, Esperance and Mwamba among its citizens. The world is lucky as well.
Madison Umoja ni Nguvu
Madison Umoja ni Nguvu (Pronounced: oo-MOH-jah nee n'GOO-voo) is a local refugee support organization formed by and for Swahili-speaking refugees. Albert M., along with other Swahili-speaking individuals, created it in 2020. Its mission is to "be a development community that fosters unity, love, prosperity, and continuity."
Since 2018, many of Madison's refugees have come from the Democratic Republic of the Congo, and Swahili is their most common native language. Many of the new arrivals have settled in a close-knit community on Madison's southwest side.
Getting to know numerous new arrivals, Albert and his neighbors have seen firsthand the difficulties that many refugees experience, including the language barrier, cultural differences, and lack of information about resources. The earlier arrivals formed Umoja to help the newcomers. In turn, because of their common language, shared cultural identity, and close proximity, the new arrivals have been reaching out to Umoja for help.
Recognizing their better standing in the Swahili-speaking community, Open Doors decided that one way to support this particular refugee community is to provide Umoja with modest funding. As those funds are spent (and they provide adequate tracking and receipts), ODFR will replenish them. If you would like to join ODFR to contribute to Umoja, please write: OpenDoorsForRefugees@gmail.com and specify "Umoja." ODFR will send information to make the direct connection.