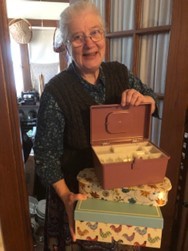 ODFR's "sewing machine lady" is Karen Cornwell, who for years has been gifting newly arrived refugees, seniors, and low-income individuals with sewing machines via a variety of organizations.
"It comes in spurts," she says. "In the past couple months, working with JSS and ODFR, I think we've delivered 20 machines to women from Afghanistan, the Congo, and Syria." Many women, and a few men, were skilled sewers in their past lives, but a sewing machine was hardly the item grabbed when they fled. Other individuals wish to learn to sew, since sewing, mending, or tailoring might serve as a future home business.
Karen is herself a skilled seamstress, but ten years ago began taking courses in sewing machine repair. There is pleasure in fixing "broken" machines, though she says the single most frequent fix is, "that they just need some oil." While many sewers are scaling up to digitized machines, many newcomers prefer the older, metal models, which Karen says are practical to repair and easier to find parts for. With every machine, Karen delivers notions, scissors, and garment fabric, "so women have everything they need to start a project." If she does the delivery personally, she sticks around to make sure women know how to thread the machine and use its accessories. She scours thrift stores to find notions boxes.
A recent shout-out to Who's New in Madison (WNIM) brought forth 500 spools of thread, 100 notions packets, and six brand new sewing kits – enough to fill five bags that were delivered to Karen's doorstep, and from there will make their way to homes around Madison.
If you have a machine (working or not) or sewing table that's not in use, please consider sending an email to donations@odfr.org.